Home
Couette et café crème
Bed and Breakfast in Le Coudray, Chartres
Would you like to discover the historic town of Chartres, its UNESCO world heritage cathedral and its museums? Or are you planning to sample the wide variety of sporting, artistic and cultural events organised in Chartres? Perhaps you are travelling for business? Or touring the Eure et Loir department on foot, by bicycle or by car? Are you planning a family holiday or a romantic break for two?
 Whatever your reason for coming to Chartres, it will be our pleasure to welcome you to our guest house: 
"Couette et café crème"
Bed and breakfast in a timber house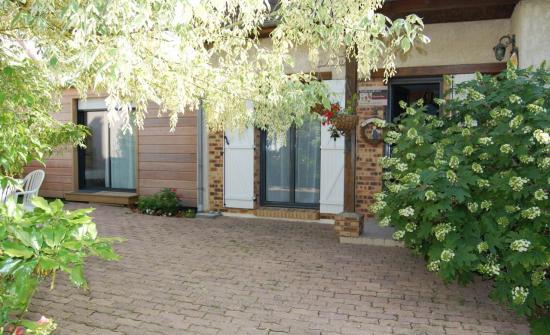 Just a stone's throw from Chartres city centre, we offer two guest rooms in a timber house, to accommodate 1 to 4 people. Comfortable and peaceful, they are equipped and decorated with great attention to detail.
We will be delighted to share our knowledge of Chartres and the region, and will be able to provide you with brochures and information to help you plan your visit.
Both guest rooms have obtained a 3 key  with the Gîtes de France network and have received the Accueil Vélo seal of approval. They have independent access and kitchenette facilities.
A small car park is available close to the house. Free WiFi access.
We first welcomed guests to our home just a stone's throw from Chartres seven years ago, and dreamt of taking this rewarding experience to another level. We wanted to build a timber house, and little by little our project took shape. We opened our two new guest rooms in July 2010. They are spacious, light and comfortable with unique character.
Pommes d'Epices and Chocolatine
Come and find out for yourselves
Last edited: 08/10/2021